Dimpleplasty or simply dimple surgery is a highly popular cosmetic procedure out there currently. Those who opt for it are inspired by celebs like Mario Lopez, Gabrielle Union and Miranda Lopez who are lucky to have been born with this facial feature.
For those who weren't born with the indentation, dimple surgery is viewed as a practical option to create it – at a cost of course.
Unfortunately, there isn't much information out there about dimples surgery. Neither have any of the big names in Hollywood come out to publicly admit that their dimples are as a result of going under the surgeon's knife.
And while there are no A-list celebs who have confirmed undergoing dimple surgery, the following relatively popular Youtubers, Instagrammers, Models, and Influencers have openly admitted they paid for "fake" dimples and some have even gone ahead to document the entire process. Take a look.
Noel Cymone Walker – New York-Based Writer
Noel Cymone Walker, a New York based writer and editor is probably one of the best-known people to go public about her dimple surgery experience. The popular author who has seen her works published in leading platforms like Billboard, Glamour and Byrdie documented her dimpleplasty journey in a blog article in 2021.
In the article, she claims to have spent about 40 minutes in the OR (operating room) and a few months to fully recover.
Noel did share a photo of herself one and a half weeks later proudly displaying her beautiful pair of dimples. Unfortunately, she is yet to share another article to update the world on her progress.
With or without the dimples, there's no denying that Noel Cymone remains such a beautiful and talented soul.
Rayuana Aleyce – NYC Model
The Project Runway season 12 winning model Rayuanna Aleyce is yet another famous person who has gone public about getting a dimple surgery procedure done. In a YouTube video published in 2018, the super model documents her journey from her hometown Atlantic City to a clinic where she gets the surgery done on camera.
After the surgery, the Brooklyn-based model proudly poses with her doctor perhaps to thank him for a job well done.
Many years later, she is yet to give a post-surgery update although a look at her most recent photos reveals the dimples are still there though seemingly less prominent than they were immediately after the procedure. This is expected as the stitches dissolve and the scars heal.
The good thing is the super model remains as gorgeous and confident as ever. Keep soaring Rayuana!
Dee-Dee Michelle – Vlogger, Influencer, Mom
Dee-Dee Michelle is a Chicago-based social media celebrity with a Tiktok fanbase of over 79K followers. She claims she had her dimple surgery done by a local surgeon in mid 2021. Prior to that, she had a prominent natural dimple on her right cheek and a slightly less visible one on her left cheek.
So, she opted for the surgery with the idea of having both indented equally. She had the surgery done on both cheeks.
In a 6-month post-surgery update video posted on her YouTube channel, both dimples (left and right) seem prominent suggesting the procedure might have been a huge success for the mother of 4. That said, the left dimple appears slightly less prominent than the right one, something the vlogger actually seems to like.
Overall, Dee-Dee's dimple surgery seems to have been a major success if her photos and videos on the topic are anything to go by. Good job momma!
Beige Ojai – Youtuber from Maryland
Popular Youtuber Beige Ojai who hails from Maryland underwent the dimples surgery in October 2018. The content creator with over 190,000 subscribers on YouTube started to experience a stinging sensation in her inner cheek several days later something that prompted her to get in touch with the clinic where her surgery had been done.
The clinic sent some meds but this did little to deal with the frustrations the influencer was facing after having to put up with the pain and inconvenience of a surgery she initially thought was going to be a straightforward one.
Months later, she recovered from the pain but unfortunately, in her own words "…there is hardly any sign that I had the procedure."
Phew! Luckily, Beige is naturally beautiful and her stunning face remains as gorgeous as ever even without the fake dimples.
Hannah Levant – LA-Based Tattoo Artist & Trainer
When Hannah Levant came across the idea of having fake dimples done inside a doctor's clinic, she instantly thought it was a great way to "soften" her looks. Hannah is heavily tattooed which isn't a surprise seeing as this is her area of specialization and business.
She opted to undergo the procedure at a cosmetic surgery clinic based out of Beverly Hills.
For her, though, the entire process came out as extremely uncomfortable and painful. She says she liked the results within the first three months. Unfortunately, the small indentations she so much adored starting fading out soon after. She currently looks like she never had dimpleplasty in the first place as noted in this blog post too.
The unsuccessful procedure notwithstanding, Hannah Levant's alluring beauty remains intact.
Pammie Kyle – Vlogger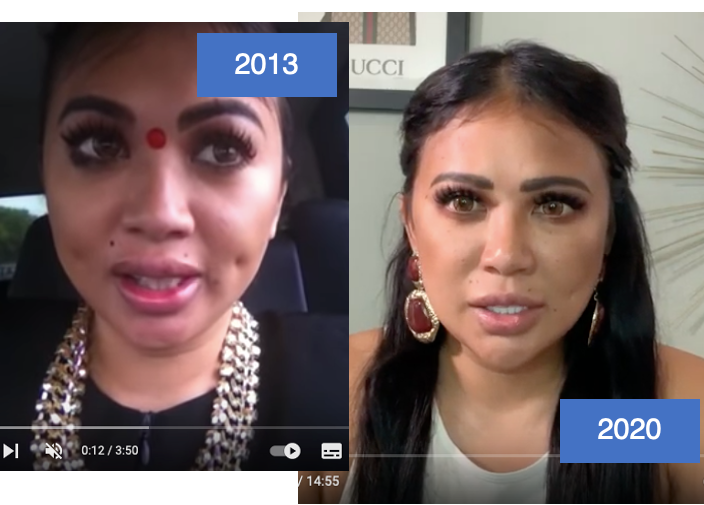 Last but not least on our list of celebrities with fake dimples is Pammie Kyle. A committed body dysmorphic disorder (BDD) advocate and a wonderful mom, Pammie had to undergo multiple surgeries to create long-lasting dimples.
The surgeries included buccal fat removal which she did with the goal of making her face less rounded and making the dimples more prominent.
Close to a decade later, the vlogger has one dimple remaining, the other one has almost faded away something she says she's happy with as she finds it more natural-looking.
Looking back, the gorgeous mom cautions those considering going down the plastic surgery route to carefully evaluate their choices to avoid regrets down the line.
ALSO READ
10 Male Celebrities with Gorgeous Blue Eyes
What's The Color of Olivia Wilde's Eyes?